How to Wear the Maxi Dress
Season for the Maxi
When winter is soon to be here with it chilly dismal weather, you don't have to wait until spring to wear your maxi dresses. They can be worn in the colder months by adding some cute suede boots and a short bolero style jacket. When the weather turns warm they will be fun to wear then too.
Day Time-Warm Weather Wear
The maxi dress can be worn during the day while out running errands. If the weather is too balmy add a light fitted jacket. A pair of over size sun glasses and a matching head scarf will complement the look. As for jewelry try longer strands of chunky jewelry.
Night Time Wear
Night time is a good time to wear maxi dresses. Accessorize with some pretty jewelry and dressy shoes. If the night is cool add a pretty wrap for the bare shoulders of the maxi dress. A clutch style hand bag for evening would work with the maxi dress.
Prints and Material
These dresses come in solid colors geometric prints and floral patterns. The materials used to make them are cotton blends, lighter silks, jersey and chiffon's.
Figure Conscious
If you are conscious about your waist line, choose an empire style maxi dress. This will place the emphasis above the waist line. Maxi dresses are for petite girls too. A few fashion tips would be to choose a v neck to add length. An A line skirt would add to the height. Lastly go for solid colors, not large geometric patterns for your maxi dress.
Fashion Tips
Maxi dresses will look great on a plus size figure if a few fashion tips are applied. For larger busts the thicker straps of the halter style will work better then thinner straps. Larger patterns will be more figure flattering then smaller prints. A v neck line will complement the look. The dress needs to be clingy, but not tight to accent your curves. For the fuller figure some good color choices are browns, black, olive green and deep purples.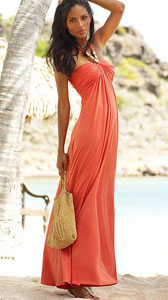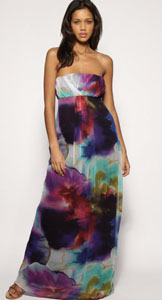 Shoes to wear with the maxi
Choosing the right shoe for the dress depends on your height and style. A taller girl can wear heels, a shorter girl would need sandals, wedgies, flatter heel shoes.
Maxi dresses are flirty and fun to wear any time.
One Response to How to Wear the Maxi Dress